Recent magazine feature writing samples by freelance writer Patrick Jones

Feature freelance writing links are primarily PDF files.
© Reuse of any of this copyrighted material without express written consent is strictly prohibited.
---
Haven Magazine
A Guide To Exploring The Exceptional Nature of Bald Head Island
www.baldheadisland.com
Magazine feature: Renewing A Coastal Classic
Patrick Jones, golf writer and member of the North Carolina Golf Panel, provides a unique first-person take on the newly renovated Bald Head Island Golf Club.
---
Latitudes: American Eagle In-Flight Magazine
Adventures, Cuisine, Festivals
www.eaglelatitudes.com
Magazine travel feature: The Wonders of Wilmington
You may already know the picturesque sights of Wilmington -- North Carolina's historic and serene port city -- even if you have yet to book a visit. With hundreds of feature films and television shows to its credit, some have chosen to dub the town Wilmywood.
---

Kingdom Magazine
The Exclusive Magazine for Members and Guests of Arnold Palmer Courses
www.arnieskingdom.com
Travel feature by golf writer Patrick Jones: All Fore Caribbean
Best known in golf circles as the home of the swashbuckling Chi Chi Rodriguez, the island nation has solidified its position as a Caribbean golf destination with its hosting of the PGA Tour's Puerto Rico Classic. Puerto Rico offers an array of sightseeing, dining and recreational opportunities.
Freelance golf travel feature: Louisiana Golf/Audubon Golf Trail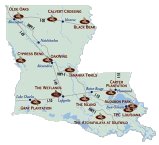 Hurricane Katrina devastated New Orleans and surrounding regions. But life goes on in the Bayou State and its residents have shown the world the strength of their resiliency. Golf, including courses on Louisiana's Audubon Golf Trail, have forged ahead.
Golf travel freelance writing feature: A Peach of a State
Georgia is home to The Masters and Bobby Jones. Travel the state from Atlanta to Savannah, not to mention from Ty Ty to Enigma. Savor all the side trips and fare that the Peach State has to offer.
Golf real estate feature: Sweet Home Carolina
Arnold Palmer continues to bestow his gifts, gratitude and genius on North Carolina a half century after he wandered into the state as an accidental student.
Freelance personality profile: Pitching Brave
Tom Glavine earned his ticket to Cooperstown with 300-plus wins and a pair of Cy Young awards. The crafty lefthander teamed with fellow Hall of Famers Greg Maddux and John Smoltz to lead the Atlanta Braves in pitching wins and golf rounds played.
Personality profile: Dan The Man
Dan Marino, like Arnold Palmer, is a Pennsylvania kid made good. Both have risen to the top of their respective athletic professions and continue to remain active in their sports after their Hall of Fame careers have ended.
Golf instruction feature: Go Long
Tiger loves them, you're scared of them. But if you can hit one, a long iron can do serious damage to your opponent. Richard Sykes, coaching the North Carolina State Wolfpack for the 38th straight season, tells you how to stripe them.
Golf instruction: Managing Practice
A pair of PGA Master Professionals tell you how to maximize your available practice time.
Golf instruction: Hitting from the Rough
Balsam Mountain Preserve head golf professional Brian Chapman offers tips on getting out of the rough stuff.
Golf instruction: 80 Yards and In
Golfers are generally an intelligent bunch, but when it comes to practice, most tend to pull out the driver and ignore the wedges and putter -- scoring clubs that lead to a better game.
Golf instruction: Driving Ambition
Innsbrook's head pro Martha Faulconer can't give you Arnold Palmer's distinctive rocket off the tee, but she can offer a few tips on developing a drive of your own.
---
Rebel Magazine
Challenging Today's Popular Culture
www.rebelmagazine.com

Magazine travel feature:Oregon Wine Country
Oregon is gaining credence as a fruitful alternative to Napa and Sonoma valleys for impassioned West Coast travelers seeking a wine-filled getaway.
---
The Open Championship
The Official Program of the British Open Championship
Freelance writing magazine feature: Carolina In My Mind
The title of James Taylor's iconic song sums up the particular attraction of the state of North Carolina. Once witnessed in all its stunning beauty, it will never be forgotten.
---
---
Classic Style Magazine
When You've Got It, You've Got It
www.classicstyle.com

Magazine feature by freelance writer Patrick Jones: LaBamba
Richie Rosenberg, aka LaBamba, is one of the best-known trombonists in the business. Rosenberg is the slide man and straight man in the Max Weinberg 7, the house band for Late Night with Conan O'Brien. LaBamba's signature Panama hat and formal dress define his style, whether he is performing with his own band, LaBamba and the Hubcaps, or touring with his former Southside Johnny and the Asbury Jukes buddy Bruce Springsteen. r
---
New Jersey Life
Luxury + Life + Design
www.newjerseylife.com
Freelance personality profile: The Midas Touch
Furniture maverick Mitchell Gold, founder of Mitchell Gold + Bob Williams furniture design company, has built a $100 million per year business and a 14-carat home to match.
---
GO Magazine: AirTran Airline's In-Flight Magazine
A Spotlight on AirTran Airways Many Great Destinations
www.airtranmagazine.com
Magazine travel feature: Escape to Asheville
The heat will be high as Charlotte, host of the 2012 Democratic National Convention, entertains the nation's top politicos. Escape the sometimes oppressive humidity -- and partisan rhetoric -- with a quick side trip to the appropriately liberal mountain city of Asheville.
---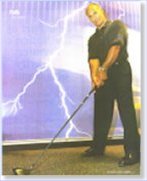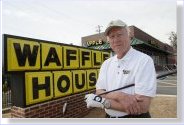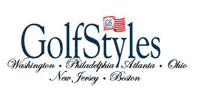 GolfStyles Magazine
The Courses You Play, The Places You Stay, Your Golf Lifestyle
www.golfstylesonline.com
GolfStyles is the country's largest family of regional golf publications with editions in Atlanta, Boston, Washington D.C., Philadelphia, Ohio and New Jersey with a combined circulation of 330,000 per issue
Assorted golf-related freelance writing personality profiles
---

M Lifestyle
The Magazine of the MGM Mirage©
www.mlifestyle.com
Golf travel feature: Viva Las Vegas Golf
Las Vegas built its brand on glitter, glitz and high rollers. One of Sin City's surefire bets is a collection of golf courses that rival those anywhere on the globe.
---
China's Golf + Travel Magazine
Golf travel feature: Pinehurst No. 2 hosts the world
Patrick Jones provides international readers with insights on Pinehurst Resort and the Pinehurst No. 2 golf course, scheduled to host the men's and women's U.S. Open golf championships on back-to-back weeks in 2014.
---
One+ Magazine (formerly The Meeting Professional Magazine)
Connecting You to the Global Meeting + Event Community
www.mpiweb.org

Freelance technology magazine feature writing: Seeking Realities in the Virtual World
Dr. Mitzi Montoya sometimes spends her days roaming through virtual worlds. These computerized artificial environments, where our online alter egos are represented in 3-dimensional avatar forms, are not as futuristic as you might think. Major technology companies use virtual worlds to bring together their global workforces for online meetings, and collaborative education and training among other uses.
---
---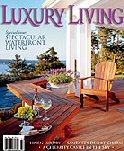 Luxury Living Magazine
The Source for Exclusive Communities and the Luxury Lifestyle
www.luxurylivingmag.com
Real estate feature:
Out of the Blue Ridge
The Blue Ridge Mountains showcase an abundance of views and gorgeous homes.
Real estate feature: The Outstanding Outer Banks
North Carolina's Outer Banks brings people in with its many real estate options and gorgeous coast.
---
Victory at Valhalla
Official Program of the Ryder Cup
www.rydercup.com
Real estate writing feature: Sweet Spot
A giant wave -- retiring Boomers -- is approaching the golf-rich Middle Atlantic States. Temperate weather, coastal destinations, mountain getaways, stable economies and great golf are an alluring combination.
---
North Carolina Magazine
The Voice of Business and Industry in North Carolina
www.nccbi.org
Golf feature: Stop Thief!
Leaving your golf bag outside while going into the snack bar may be the most expensive beer that you will ever buy.
Personality profile: Dream Come True
How an immigrant kid with lots of brains became an All-American success story.
---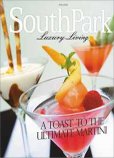 South Park Magazine
Luxury Living In and Around Charlotte
www.southparkmagazine.com
Quail Hollow Club: Stroke of Serendipity
Home to the PGA Tour's Wachovia Championships, the Quail Hollow Club in South Charlotte has undergone major transitions since its inception in 1959.
---
visitnc.com
North Carolina Department of Commerce, Tourism, Film and Sports Development
www.visitnc.com

Statewide contributing golf writer for North Carolina
Contribute monthly features highlighting golf, resorts and spas, and other recreational opportunities across North Carolina for the state's official tourism Web site. The site annually receives more than 7 million visitors. Contributed state golf travel roundup features for Official North Carollina Travel Guide print versions.


Patrick is a member of the North Carolina Golf Panel, a committee of golf industry professionals, media members and business leaders that plays and annually ranks the state's top golf courses.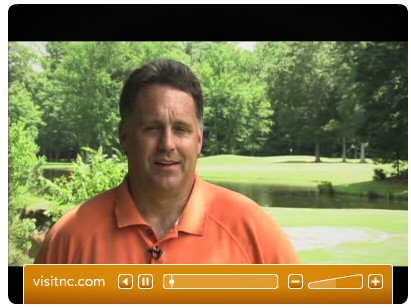 visitnc.com golf writer Patrick Jones discusses North Carolina's "Dream 18" golf holes that you can play.
External links to stories on www.visitnc.com:



Golf feature: Haywood County Offers A Great Escape

Golf feature: Lake Toxaway Country Club
Golf feature:

Experience The Maggie Valley Club

Golf feature:

Great Smoky Mountains Golf

Golf feature:

North Carolina's Cape Fear Coast Golf Gems

Golf feature:

Washington Duke Inn & Golf Club

Golf feature:

Strantz Leaves Lasting Imprint on N.C.'s Golf Scene

Resorts & spas feature:

Badin Inn Resort
Golf feature: North Carolina Golf Schools
Golf video feature: North Carolina's Dream 18 Holes
Golf feature: Brunswick County Golf
Golf feature:

Lonnie Poole Has Wolfpack Howling

Golf feature: "Green" Golf in N.C.
Golf feature: Gotta Golf at Pinehurst
Skiing feature: Ski Your Way Across N.C.'s Mountains
Golf feature: Valentine's Heartbreakers: N.C.'s Toughest Public Courses
Golf feature:

North Carolina's Longest Goif Holes

Golf feature: North Carolina A Hotbed of Golfing Greats
Golf feature: Golfing along I-95
Outdoors feature:

The American Tobacco Trail

Golf feature:

Outer Banks Golf Roundup

Resorts & spas feature:

Yonahlossee Inn in Blowing Rock

Golf feature: Linville Golf Club/Eseeola Lodge
---

The Affluent Page
The Ultimate Magazine for the Finer Things in Life
www.theaffluentpage.com
Real estate/private clubs feature: The Carnegie Abbey Club
The exclusive Carnegie Abbey Club on the Narrrangansett Bay in Portsmouth, Rhode Island, offers world-class service and amenities to its elite membership. It has seamlessly blended in with a Benedictine monastery that remains steward of the land. The club's World Leadership Guest Series has drawn dignitaries including Mikhail Gorbachev, Prince Albert II of Monaco, the Dalai Lama and former Presidents Clinton and Bush to address its membership on Aquidneck Island.
---
Selected golf course, golf resort and golf travel reviews
ALABAMA golf course reviews
Robert Trent Jones Golf Trail - Alabama proffers 11 gems from Huntsville to Birmingham to Mobile
GEORGIA golf course reviews
Bear's Best - Imprints of some of the world's best Bear tracks found along the banks of the Chattahoochee River
The River Club - Greg Norman's newest design in the Atlanta area
Candler Park Golf Course - It may be a cow pasture, but it's our cow pasture
The Frog - The course with the funny name is a Fazio thriller
Georgia Tech Club - A gem for the Yellow Jackets faithful
Beaver Dam Farms - Luxurious, exclusive and now accessible
The Manor - Tom Watson's first layout in Georgia
Gold Creek Golf Club - The Gold Standard: Panning for a prime layout
Canongate Golf Clubs - Private without the price
Stone Mountain Golf Club - 'The Rock' features a Robert Trent Jones original
Sugarloaf Country Club - Architect Norman looks for perfection at Sugarloaf
Brasstown Valley Resort - Brasstown Valley is calm to the next level
Callaway Gardens Resort - Southern hospitality at its best
Country Club of the South - Nicklaus's first Atlanta design offers echoes of Augusta
Sky Valley Resort and Country Club - The sky is the limit in this redesigned Georgia mountains course
Crystal Falls Golf Club - Denis Griffiths' design brings a new option to the northern corridor
St. Marlo Golf Club - St. Marlo is no sinner
Charlie Yates Golf Course - Who was Charlie Yates and why does he have a course named after him?
Horseshoe Bend Country Club - Around the bend in Roswell
City Club of Marietta - A little something different
North Fulton Golf Course - An impeccable lineage
Indian Creek Golf Club - One of a few: Desmond Muirhead layout in Georgia

MAINE golf course reviews
Belgrade Lakes Golf Club - Maine's Belgrade Lakes is golf at its absolute best

LOUISIANA golf course reviews
The Big Easy - Savor bayous, golf and gumbo on Louisiana's Audubon Golf Trail
VIRGINIA golf course reviews
Wintergreen Resort - Wintergreen mixes scenic beauty with fun for all climates
Southwest Virginia roundup - Rally 'round Roanoke when you're in Western Virginia
CARIBBEAN golf course reviews
All Fore Caribbean - Best known in golf circles as the home of the swashbuckling Chi Chi Rodriguez, Puerto Rico has solidified its position as a Caribbean golf destination

NEW MEXICO golf course reviews (not yet posted)
Golf in Albuquerque, Santa Fe and Angel Fire near Taos offers credence to the state's "Land of Enchantment" moniker
NORTH CAROLINA golf course reviews
The Outer Banks - North Carolina's unsung golf destination
Cashiers-Highlands - Jackson County golf will have you flying high
Eagle Ridge Golf Club - A Texas-sized challenge in The Carolinas
Cypress Lakes Golf Course - Home of the Floyds finds acclaim on its own merits
Boone/Banner Elk/Blowing Rock roundup - High Country golf can hold its own
Pinehurst and Sandhills roundup - Sandhills golf does not have to cost an arm and a leg
Keith Hills Country Club - Keith Hills about to become twice as nice
The Heritage Golf Club - The Heritage Club still creates a buzz
The Preserve at Jordan Lake - Filled with Love and variety
Anderson Creek Golf Club - Anderson Creek a labor of Love for Davis III
Fayetteville roundup - Fayetteville offers quality, affordable golf
Interstate 95 - I-95 off golfers several top rest stops
18 Triangle Holes You Must Play - The best in golf in the Raleigh/Durham/Chapel Hill area

SOUTH CAROLINA golf course reviews
Arrowhead Golf Club - You're always welcome at Arrowhead Country Club
World Tour Golf Links - World Tour gives you a satisfying taste of famous global golf holes
Long Bay Club - There's nothing easy about Long Bay Club

FLORIDA golf course reviews
Southwood Golf Club - Fred Couples layout in Tallahassee a Bobby Bowden favorite
Camp Creek Golf Club - Fazio design in the Florida Panhandle


---
Golf Daily
Editor/Lead Writer
Golf. All Day. Every Day.
www.golfdaily.com

Golf commentary: Just Dying for another game
Golf commentary: Slow Play Top 10 list: Get Your Snedeker On
Golf commentary:: The Elusive Ace Chase
Golf feature: Win The Ryder Cup Again Y'all
Golf travel: Historic Pinehurst A Golfing Mecca
Golf travel: Viva Las Vegas Golf"
Golf travel: Sweet Golf On Alabama's RTJ Trail
Golf travel: Word Is Out On New Mexico Golf
Golf travel: Grin And Bear It At PGA National
Golf equipment: Nike Vapor Irons Rise To Forefront
Golf equipment: Take A Walk on the Clicgear Side
Golf equipment: Let The Big Bertha Alpha Dog Eat
Golf equipment: Stick It Closer With Mizuno
Golf equipment: Play Loose With Tight Lies
Golf technology: Nike Vapor Irons Rise To Forefront
Golf technology: OptiShot Provides Cost-Effective Golf Simulation Stimulation
Golf technology: Garmin Approach S6 A Back To The Future Powerhouse
---
Pat Jones is a graduate of Briarcliff High School in Atlanta, Georgia Southern University in Statesboro (B.A. Journalism, gymnastics team and Pi Kappa Phi fraternity) and Georgia State University in Atlanta (M.A. Communications). He lives in Cary, North Carolina. Dee Jones. Methodist Children's Home. July 6, 1963, accountant, W.D. Thompson, Peachtree Software, Intellimedia Sports, Total Sports, Progress Energy, Longview Morning Journal, The Daily Breeze, ALTA tennis, golf writer, Olde Atlanta Club, Martin's Landing, The Neuse, Cape Coral,